Thermal image view.
Features
A large 8", glove-enabled touch-screen makes the information clear and the app easy to use. The small OLED display (A) shows battery status of both measuring units and display unit. You can check battery status also when the unit is turned off (F). The clever lock-screen button (F) prevents unintentional clicks, for instance when moving around on the job. Four fastening points for shoulder strap or customized solutions. Heavy-duty battery for very long operating times; up to 16 hours. The camera can be removed if security reasons require it.

Watch this video to discover more: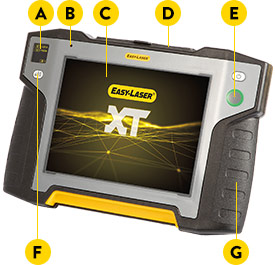 A. OLED display
B. Display brightness sensor
C. Large and clear 8" glove-enabled touch-screen
D. Dust cover and protection for connectors (Note: connectors are dust and waterproof)
E. Enter button
F. Screen-lock button/Battery status-check button
G. Ergonomic, rubber coated housing
ecom Tab-Ex®
Based on Samsung GALAXY Tab Active, ecom's hazardous area tablet is certified for use in Zone 1/ 21 & DIV 1 hazardous areas.
For use together with Ex approved shaft alignment system XT550.
For more detailed information, please see the ecom web site: https://www.ecom-ex.com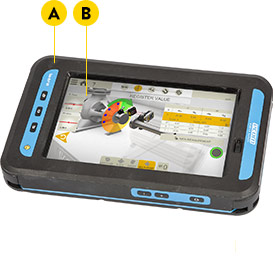 A. Rubber coated housing
B. Large and clear 8" TFT display, glove-enabled
Back to top