He remembers the event vividly. The production rate of the concrete company had declined and fallen below the profitable level. As a result, the management had taken the decision to replace the entire production line and the industrial saw in particular, which had been deemed exhausted.
"I examined the machine and came up with a suggestion," Fredrik Thulinsson says, who had been invited to the factory for one last assessment.
By consulting all his previous experience he quickly came to the conclusion that the machine not only could be repaired but at the same be more efficient and reliable than ever before. All it needed was a complete reinstallation. The production manager reacted reluctantly. However, since production had already stopped and the company potentially was facing fines what more could they do? Fredrik was given the green light. He gathered his best team who disassembled the entire construction, aligned every moving part, readjusted, and reinstalled the machine.
A couple of weeks later he revisited the plant. Out of curiosity he asked to see the deviations report.
"Usually the report would contain a page-full of deviances each week. But this time I could only find four or five in total."
Not only was the machine running more efficiently than ever with the five small engines using 26 percent less energy. The production line had in the same period reached a record setting production rate while the company simultaneously was saving resources due to fewer unexpected production stops.
The episode may be one of the most memorable of his career. But as a maintenance engineer aligning all kinds of rotating machines on a daily basis, Fredrik has experienced several similar encounters. With energy suppliers. With manufacturers. Even the Swedish Defense where emphasis on precision alignment has given the customer exponentially positive effects.
With decades of experience and 17 years on his own two feet with his company TechMea, Fredrik summarizes his profession as a chase. For he says they can be found everywhere. Sources of power loss. In a sloppy installed machine. In a skewed pipe. In a loose frame. Where each complication can have everything from no effect to devastating consequences.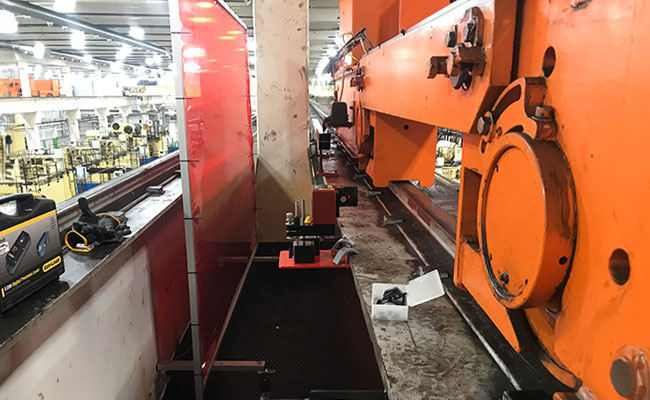 Alignment of overhead crane
"It's all connected. A misaligned shaft, an uneven surface, or an untightened screw can all cause vibration and unnecessary damage to a machine. More vibration leads to power loss which consumes energy. Damage leads to breakdown which requires repair and spare parts. Which costs resources in the shape of time and money. By chasing down the different power leakages a company can make major savings."
When Fredrik started out in the late 90's the craft mostly consisted of analogue dial indicators methods. Today he has been an avid Easy-Laser user since 2012 when he completed his first training with the company's products making up around half of his total tool set.
Among his collection one can find a shaft alignment system with 2-axis dot laser units. Units that also work for geometrical measurements. You will also see tools for measuring vibration, a digital level and you'll also discover extra accessories which gives him additional reach while aligning all kinds of rotating machines and carrying out geometry measurements.
"The reason I prefer Easy-Laser is the flexibility where I can pick and choose parts to create my preferable set. I have one display unit which communicates with all the products. This way I just need to invest in what I need."
About TechMea
Founded: 2006
Based in: Östra Ljungby, Sweden
Experts in: Laser based measurement
Previous clients include: The Swedish Defense, energy suppliers and the car industry.
techmea.se