With EasyLink™ 3 you can save and organise all your measurements in one place, produce reports with both data and images and export to your maintenance systems. The new version of our database program has undergone major changes, not just in the graphic interface but also handling, with a new report generator. This means that you can customise what your Excel reports should look like and what data should be visible and where it should be positioned.

The program has a clear folder structure, where you drag and drop files from the display unit to the database, or vice versa if you wish to prepare a measurement before going out into the field to take measurements. Create your own structure with folders for manufacturer, department or machine type for example.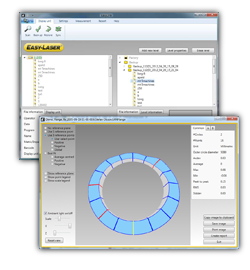 With everything in one location you have a better overview of what actions have been carried out. The database can also be located on a common server and shared with other users. For extra safety you can use EasyLink™ to make backups of what you have saved in the E-series' display unit. You can also simulate adjustments and test corrective actions in the program without any risk of losing the original data.

The program is supplied with all our measurement systems, but can also be downloaded by anyone for free.
System requirements: Windows® XP, Vista, 7, 8, 10. For the export function, Excel 2003 or newer must also be installed on the computer. EasyLink™ 3.0 functions with both the D and E series in Easy-Laser®.
Export formats: Excel, XML.

The program will automatically search for updates, and ask if you want to download it. This way you will always have the latest version installed. The link also always downloads the latest version. If you are having trouble downloading the file, right-click on the link and select "Open in new tab".

The program is completely free and contains a full version.
Please note! You no longer need to register the software. Please ignore any pop-up messages you get regarding a missing license.