In a sawmill, it is important that all supports and holders for logs and planks are centred, straight and parallel relative to reducers and saw sections. There are high demands on the processing procedure because the product is heavy, wearing and varies in shape and density.
It is advantageous to align the circular saw blades and band saw pulleys in parallel and vertically within the correct tolerances to optimize the machine.
Being able to measure and align supports, holders, counterholds and circular saw blades in the sawmill quickly, easily and in a flexible way is important for maintaining the quality of the sawn product and thereby assuring yields.
Advantages of measuring and adjusting the sawmill:
Continued high pace of production
Fewer unplanned stops
Better product quality
Extended service life for band saw and circular saw blades
Extended service life for bearings and other machine elements
Less vibrations
Increased machine checks
Safer working environment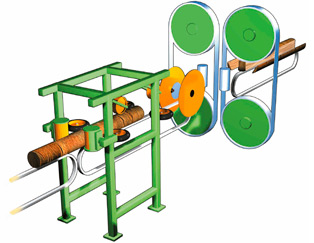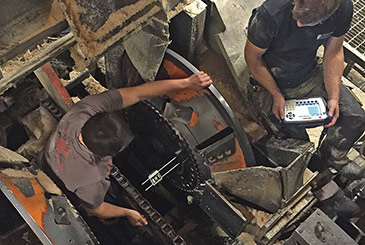 Why choose laser?
The laser gives us an absolutely straight "ruler" to place on the centre of the sawline, which we then measure from, for example, counterholds to the laser beam from both sides. We can then centre exactly to our requirements.
The laser beam replaces the traditional cord/wire that is tensioned in the centre. It enables you to move around freely in the machine while adjusting, following the result of the adjustment in real time. It is a quick and efficient way of working. In addition, it is easy to document the results before and after alignment.
Easy-Laser E980 is a laser measurement system specially developed for sawmills.