There are many applications for Easy-Laser® systems in the wind power generation industry. The fact is that Easy-Laser is one of the world's largest suppliers of laser based measurement systems to the wind power industry. This applies to, for example, systems for the alignment of gearboxes and generators, both during installation and out in the field during continuous maintenance work.

Another large application is systems for measuring flatness of tower flanges. For manufacturers of vanes, we also supply equipment for measuring and aligning the centre line of the jigs, as well as their squareness. Several of the measurement systems have been especially adapted for the producer's specific turbines.
Measurement of flatness on tower flanges
Easy-Laser® Flange systems can be used on all sizes of flanges, regardless of diameter. You can measure 1 to 5 circles of measurement points, for example inner, middle and outer circles, in order to see the taper of the flange. Each circle can have 6–180 measurement points. The program guides you graphically step-by-step through the entire measurement, which quickens the measurement process. Three methods are available: full circle measurement, sectional measurement and partial measurement.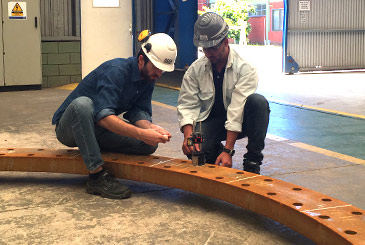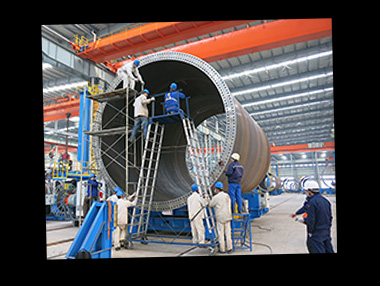 Problems with measurement
of large tower sections
A tower section with diameter over 4 meters represents a significant weight. This weight causes the flanges to deform when the sections are manufactured. This also makes it difficult to rely on the flatness measurement result. Until now, that is. With Easy-Laser's unique flange measurement program the flatness can be measured in four sections which are mathematically merged into a full circle. The result corresponds to the real vertical positioning of the tower section.
The new measurement program not only solves the flange deformation problem, but also makes it possible to perform the complete measurement on ground. This is the new safety standard for tower builders, since no climbing on ladders or skylift is required. With traditional methods the operator has to work on hazardous high levels, and often more men are needed (as in the picture).
Evaluate directly in real 3D
Easy-Laser® E910 and E915 flange measurement systems offer a more effective way of working. You can see the result as a 3D image in the display unit immediately after measuring and then evaluate the result. This can also be done directly on site without having to stop to go to a PC with separate analysis programs, which was the case previously. This makes production much more efficient. Wireless detectors enable you to work with more freedom.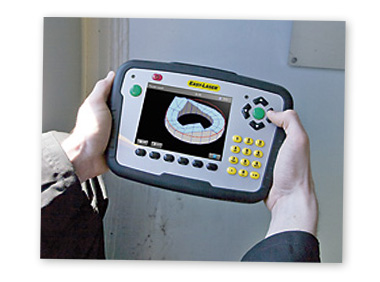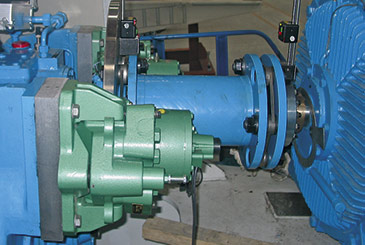 Shaft alignment
When it comes to wind power generation, we are talking about the alignment of generators and gearboxes. Large forces are in action in a wind turbine. The safety of the maintenance technicians is therefore of the utmost importance. With the Easy-Laser® shaft alignment system the generator and gearbox can be aligned with the coupling dismounted and the brake locked.