Straightforward by all measures
Easy-Laser® is one of the world's leading manufacturers and suppliers of laser measurement systems for all types of industry. We provide extreme accuracy and precision. But that's not what sets us apart. Today, when virtually anyone with a decent laser can do "straight", to get ahead, you need to be a bit more forward-thinking.
Because, in the long run, what really counts is neither the absolute straightness of an individual component nor the precise alignment of shafts. It's what these measures add up to: Increased productivity and the saving of resources. Those are the things we ultimately deliver. And from that perspective our most important task is to help you make the road leading there as free from bumps and bends as possible.
That means developing user-friendly measurement and alignment systems that are as easy to get your head around, as they are versatile and scalable. It also means shortening delivery times, extending warranties and optimizing training and support.
Moreover, you can always expect us, or any of our partners, to give you an honest opinion on which of our products are crucial to your operations and which you can do without. What really needs to be aligned and what not. So that what we offer you is a solution perfectly aligned with your needs – and your budget.
Regardless of whether you're a service technician, a purchaser or the CFO of a multinational industrial group, you'll find Easy-Laser® truly easy to deal with. Or as we like to put it – straightforward by all measures.
When it comes to deliveries and service
easy means fast and reliable
We are known in the industry for our extremely short delivery times and high level of service. Standard systems are usually available for delivery from your retailer within a few days, sometimes even on the same day you place an order (depending on country). When it comes to servicing and calibrating the measurement system, we can offer a 48-hour express service if required (read more under Service & Calibration). Fast deliveries and service mean that your production is quickly on its way again.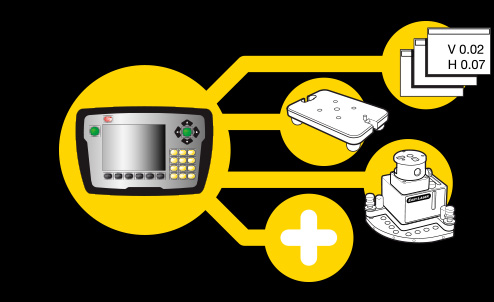 Expandability protects your
investment for the future

Easy-Laser® is a safe investment. We are able to offer turnkey systems for specific measurements, but in truth our systems can quickly and easily be expanded, combined and upgraded to suit any of your measurement needs, now or in the future. What you can measure is always a combination of hardware and software. For example, our shaft alignment system E710 has got programs also for straightness and flatness measurement. And with the geometric system E920, that has all our measurement programs, you can virtually add any of our hardware to build a custom system perfectly aligned with your needs. These are good examples of how the versatility of the Easy-Laser® systems make your investment cost effective. Quite simply an assured choice.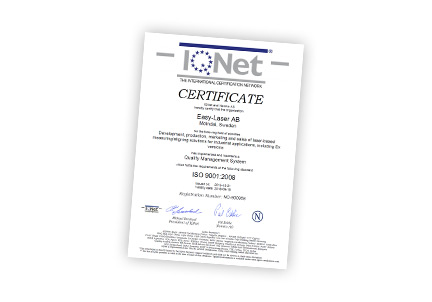 Certified design and production gives
you extra assurance
It is our users' high-quality standards that sets the requirements for us at Easy-Laser AB. In other words, only the highest quality is good enough. In order to guarantee you top product quality and customer satisfaction our entire operation is controlled and monitored by a comprehensive quality system. This includes all stages from product design, supply chain and manufacturing to sales, support and service. Our quality system fulfils the requirements of the international ISO9001 standard. It is certified by Nemko AS, notified body number 0470, and regularly reviewed.
Since some of our products are intended for use in environments with potentially explosive atmospheres, we also meet the stringent requirements within our ISO 9001 certification for so called ATEX products.
This puts higher demands on both product design and the design process, but also on production and the entire supply chain.
Furthermore, we have been awarded top ratings (AAA) for our credit worthiness for many years.
View All Distributors
Easy-Laser® has representatives in over 70 countries. We select our business partners with care. It is important for us that our distributors know about applications and solutions, and understand the needs of the customer.
Read more