Laser – a perfect starting point for precision measurement
The laser beam is the reference for the measurements. It can be compared to an absolutely straight and weightless ruler, that is to say a perfect starting point for precision measurement. But different measurement applications require different laser transmitters. Read on to learn more!
Versatile transmitters with swiveling laser head
Easy-Laser® XT20 / XT22 / D22
These transmitters can handle most types of geometrical measurements, like straightness, flatness, and squareness. The swiveling laser head gives a 360° laser plane parallel to the measured object, and the D22 and XT22 can also angle the laser beam 90° to the sweep for squareness measurement. The electronic levels of the XT transmitters ensure quick feedback and low risk of errors.

Both XT transmitters connect to the XT Alignment app. This gives you several benefits when it comes to ease of use. The app also warns you of temperature changes and vibrations that can affect the measurement results negatively. Step-by-step guidance during calibration of the units is another advantage.
What are the main differences between these three transmitters? Take a look in the table below.
| | XT20 | XT22 | D22 |
| --- | --- | --- | --- |
| Measurement radius | 20 m | 40 m | 40 m |
| Type of laser | Diode | Fiber-coupled diode | Diode |
| Laser head fine turning | 1:132 gear ratio | 1:1320 gear ratio | 1:7 gear ratio |
| IP Class | IP55 water and dust proof | – | – |
| Operating time | Up to 30 hours | Up to 30 hours | Up to 24 hours |
| Battery type | Rechargeable Li-Ion | Rechargeable Li-Ion | Dry cells |
| Laser beam | 360° sweep | 360° sweep or 90° angle | 360° sweep or 90° angle |
| Electronic precision levels | x | x | – |
D23 with a constantly rotating laser beam

Easy-Laser® D23 has a motor driven, rotating head that gives a 360° laser plane. The laser beam from the transmitter rotates constantly and creates a reference plane over the entire measurement object. Measurements are performed quicker as you do not have to align the beam for each new measurement position. The laser transmitter measures distances up to 20 meters in radius. This transmitter is mainly for flatness measurements.
D75 measures straightness of bores and more

The Easy-Laser® D75 laser transmitter is typically used to measure straightness of, for example, bores, stern tubes, and extruder barrels. The laser transmitter has a measurement distance of up to 40 meters, and brackets are available for many purposes.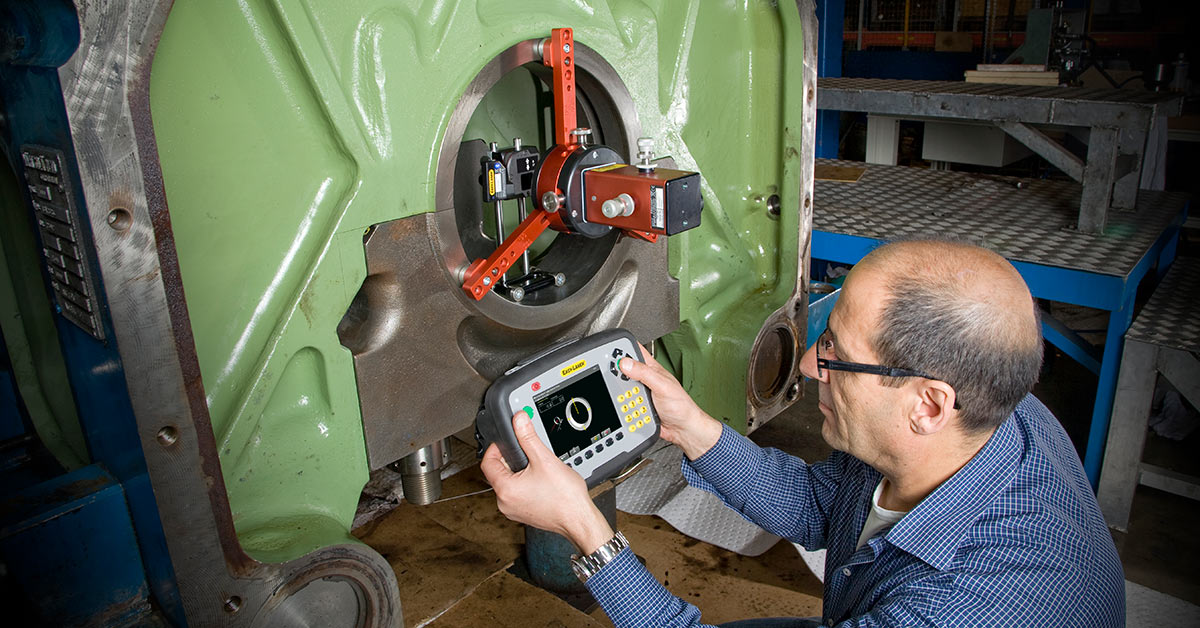 Bore alignment with the E950 system, which includes the D75 transmitter.
Get it straight in turbine applications with D25

Easy-Laser® D25 measures straightness, primarily in turbine applications, but also on e.g. gear boxes. The laser beam can sweep 360° and can be angled 90° to the sweep. This way you can use the axial surface as reference when setting up the transmitter.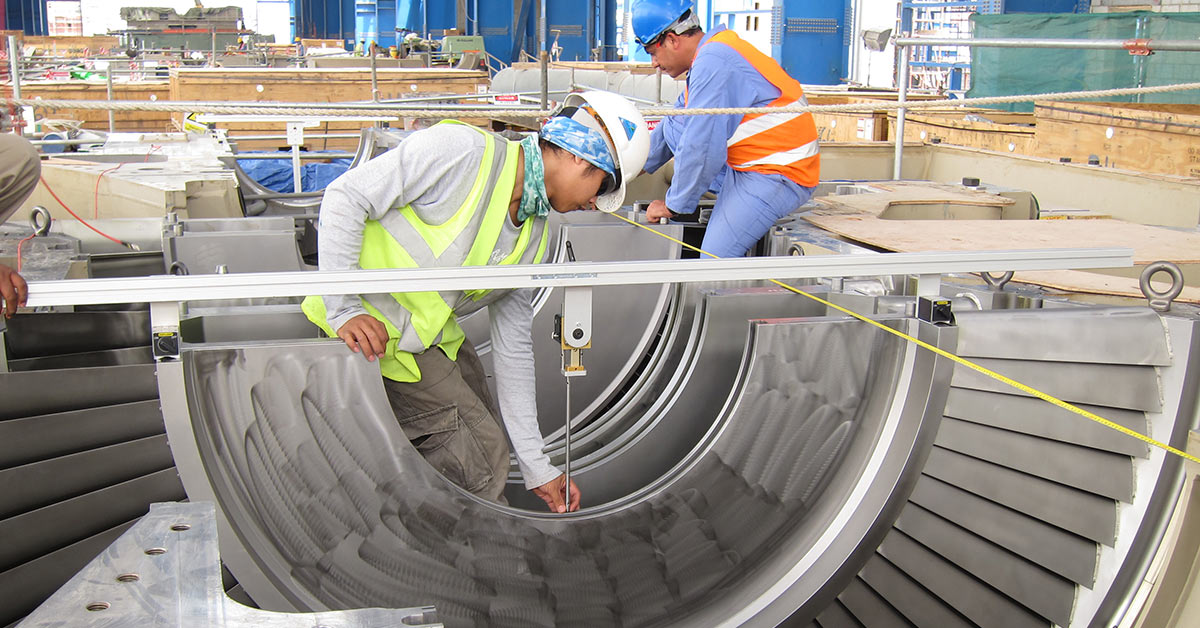 Turbine measurement
E30 for long range measurements

It is usually difficult to get a laser point that is qualitative enough to be detected with precision at long range. But with the Easy-Laser® E30 it is possible to take high-resolution straightness measurements at a range of up to 200 meters!
Laser transmitter for sheave and pulley alignment

This transmitter is used to align belt or chain transmissions. The laser transmitter is mounted on one of the sheaves, and the detector on the other. The transmitter generates a laser plane parallel to the reference sheave. The detector reads the position in relation to the laser plane and provides a live digital display of both offset and angular value. This makes the alignment of the adjustable machine very simple.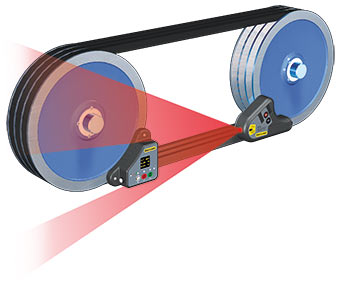 The transmitter and detector are mounted on the sheaves with magnets.
We hope you now have a better picture of our different laser transmitters. Maybe you found one that responds to your specific measurement needs? Or, worst case, you did not find any that suit your requirements! Either way – feel free to contact us. And if you want more details about any of them, please take a look in our product catalogue.