Most maintenance technicians who work with pumps and motors also have other types of rotating machinery to maintain. Belt transmissions, for example. Our XT Alignment app includes a measurement program for the alignment of sheave/pulleys. Using this and the XT190 BTA accessory, you can align most types of radial transmission with digital precision – i.e., you can align it to the tolerance indicated by the belt manufacturer. In this way, you will extend the life of the belts and pulleys, increase efficiency, and reduce electricity costs and vibration levels. In short, you will save big on costs.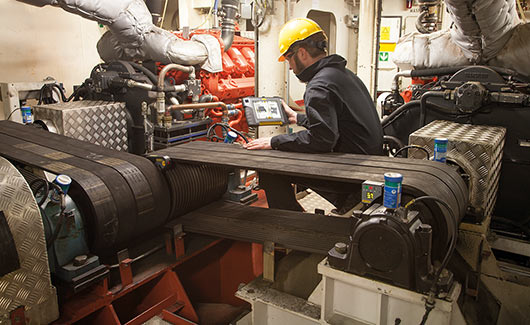 Digital reading means that, among other things, you can monitor the alignment from the adjustment point.
There are many advantages to digital belt alignment
A comparison between a digital tool and older conventional methods, such as a ruler or string, shows the many benefits of using laser tools. For example, you can bring the reading device to the side of the machine, where you can make adjustments and continuously track them instead of going back and forth to check the outcome. In addition, you can adjust both horizontally and vertically in the same procedure. Finally, and not least of all, you can document the result of the alignment!
Flat and level with digital precision
In most cases, a machine needs to stand on a perfectly flat and level base to function correctly. Here you will benefit from using a digital precision level such as the XT290. Use this tool during machine installation to ensure that the foundation is perfectly level before you place anything on top. Or measure and adjust already installed machinery. These are just two examples where the digital level might come in handy. Up to four units can be connected to the XT Alignment app simultaneously, so there are almost endless possibilities!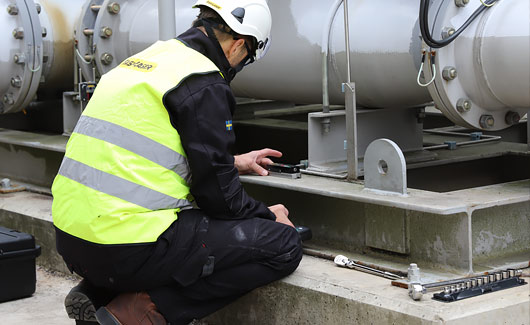 A digital precision level is a versatile tool that is perfect for measuring machine base flatness.

Simple vibration analysis
The XT Alignment app also features a measurement program for simple vibration analysis. With the XT280 vibrometer, you can quickly diagnose vibration levels, imbalance, incorrect alignment, etc., on pumps, engines, fans and bearings. The instrument displays 1x, 2x, 3x RPM, total level, and bearing condition value, which together provide the information required for installation and alignment. Of course, the app also documents the results.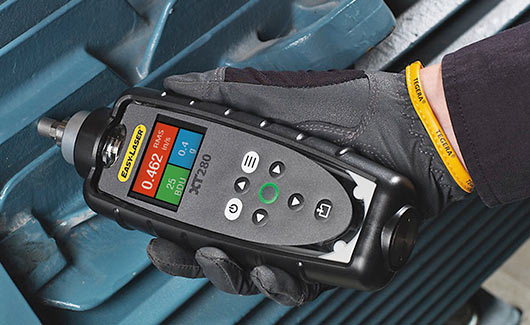 Easy-Laser® XT280 VIB for simple vibration analysis.
Unique thermal camera
Another great tool for maintenance technicians is the thermal camera. You can have this tool built into our award-winning display unit, the XT11. This is unique for a laser measurement system! Use the camera to locate the areas on the machine that may be unusually hot. For example, you can photograph the machine before and after alignment. Unlike many other display devices on the market with a built-in thermal camera, we have customized ours for the most common temperature range for rotating machinery in industrial use, i.e. 0 to 450 °C (32 to 842 °F). In addition, you can view everything on a large 8" display.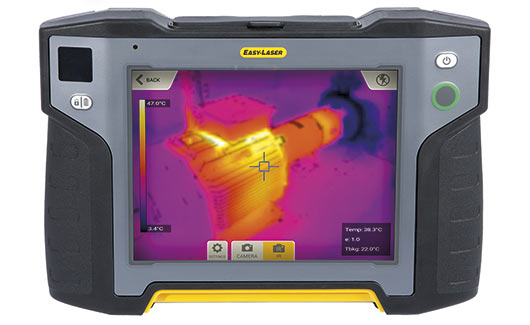 Equip your XT11 display unit with a thermal camera and locate the areas on the machine that may be unusually hot.
Not just accessories
The XT190, XT280 and XT290 are perfect accessories for your shaft alignment system, but it is worth noting that you can also use them as standalone tools with their built-in displays or together with the free XT Alignment app on your smartphone.
Easy-Laser has the most flexible and expandable alignment systems on the market. If you want to know more about our products, you can download each product brochure in your language here.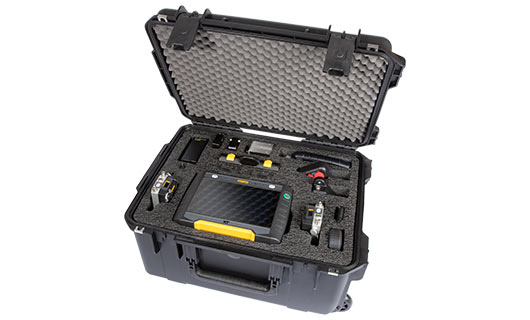 Maximum control: Here's the Easy-Laser XT660 system, with a case that holds everything you need for shaft alignment, belt alignment (XT190), the XT280 vibrometer, and the XT11 display unit with a thermal camera.
The app (Easy-Laser XT Alignment) can be downloaded and tried out free of charge from the App Store or Google Play.