The importance of shaft alignment
Achieving a satisfactory shaft alignment is vital for a ship's safe and reliable operation during its lifetime. An unexpected problem, such as failure of a stern tube bearing due to misalignment, leading to an emergency dry-docking and consequent loss of availability, can cost well over $250,000 per incident for a small vessel. More severe problems, for example, involving a bent shaft and replacement for a larger ship, can cost over $1 million. [Source: Royal Belgian Institute of Marine Engineers]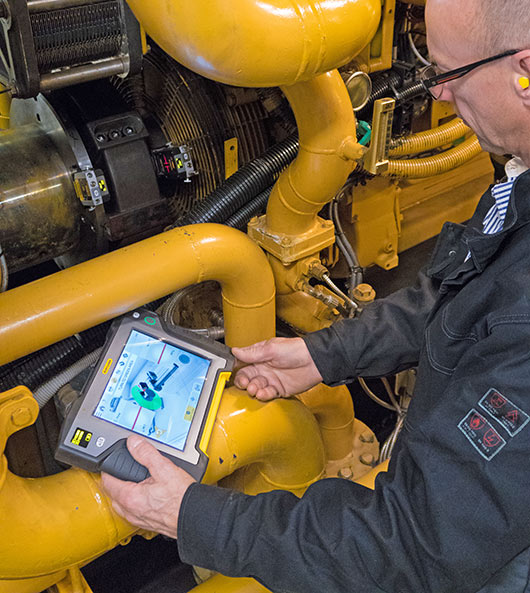 Laser shaft alignment of propeller drive line.
Alignment of the propeller shaft and gearbox is performed with shaft alignment equipment, for example Easy-Laser® XT770, with measuring units mounted on either side of the coupling. Large shafts and couplings can sometimes be difficult to rotate. Then a laser system like this is useful since it can calculate the alignment values with a rotation as small as 40 degrees.
Line bore applications
The alignment of bearing journals in relation to the stern tube (or gearbox) is carried out using a laser transmitter mounted on the axial surface at one end of the stern tube (or the gearbox flange) and a detector unit placed in the bearing position. The straightness of the stern tube itself is measured with a self-centering bracket (pictured below). Many large manufacturers of diesel engines also use our bore alignment equipment to measure the bearing journals of the engine.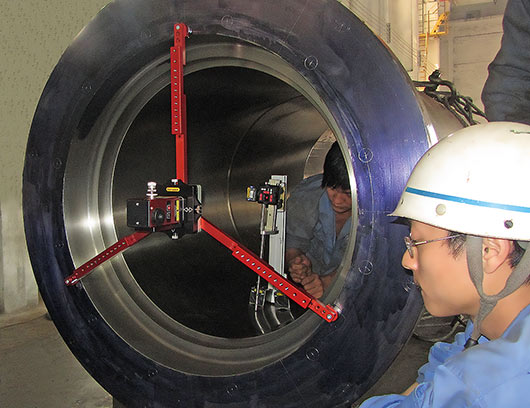 Measurement of stern tube straightness with self centering bracket.
Flatness measurement
Harbors and ships sometimes have swiveling cranes. For these to work problem free, the bearing must be flat. When measuring the flatness of a slewing ring bearing for a crane, a separate laser transmitter like the Easy-Laser XT22 is used. Magnets secure the transmitter to the flange, and the detector is placed on assigned points at the bearing. The system automatically calculates best-fit results for optimum adjustments.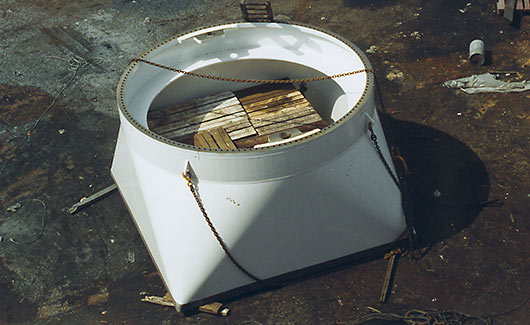 Flatness measurement is carried out e.g. on crane slewing bearings.
Customized solutions
We have extensive knowledge of measurement and alignment for the shipping industry. We have developed alignment systems for single-bearing drive lines, and customer-adapted solutions for drive lines with rubber-lined bearings. Other applications suitable for our laser systems are the alignment of rudder bearings and water jet installations.