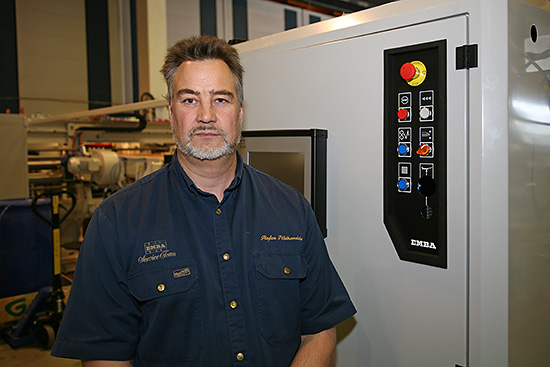 Stefan Stålhandske, Production technician at Emba Machinery.
What do Emba's machines do?
Stefan Stålhandske, Production technician at Emba Machinery, answers:
To put it simply, they supply a sheet of corrugated board with flexographic printing, before creating slots, punching, gluing and folding the sheet to produce a flat box. The final packaging has to be of the very best quality, as it is often the first thing you see when you purchase goods. The quality demands mean that the packaging also has to be strong, i.e. the corrugated board has to retain its strength through the conversion process. It must protect the packaged product during transport and handling, and it has to be stackable. It must be able to be produced quickly, and changing over the machines to a different format must also take place rapidly. Some of Emba's machine models produce up to 440 sheets per minute. Try to picture that!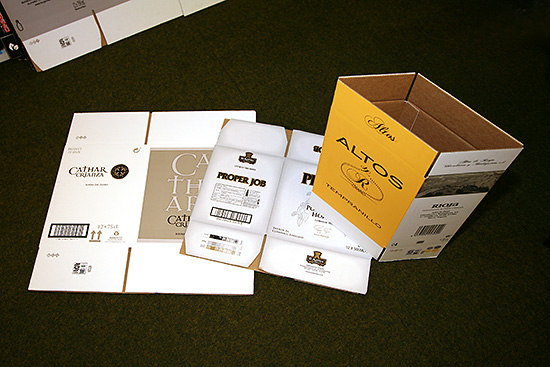 A few examples of products produced in Emba's machines.
There are stringent demands regarding product quality, machine availability and manufacturing speed. How does this influence the importance of the machines' quality?
The machines are made up of many mechanical parts, both fixed and moving parts in the form of linear guides and rotating components. Many parts are dependent on one another. Emba places stringent demands on itself and its suppliers. A separate measurement department checks machined components. Installation procedures are based on combined experience as well as generally applied requirements and tolerances. Many machine parts were previously manufactured in our own production premises in Örebro, which entailed a very high level of control of manufactured components and traceability to the machines in which they were produced. We now have a number of suppliers who have to manufacture to the same high level of accuracy, which has meant that we have been forced to develop new procedures and find new control tools.
Why was the decision taken to acquire laser instruments?
The equipment was principally procured in order to quality-assure and guarantee that all machine units are installed correctly with regard to the alignment of the stands hole centre to hole centre, as well as with regard to their squareness and parallelism. Previous measurement methods such as cross-measurement and measurement using specially manufactured tools must be replaced to achieve a better method of handling and documenting measurement results. We also considered that the equipment can provide us with the possibility in future of measuring the entire machine line. Many of the machine components are large and heavy, and require a mobile measurement system.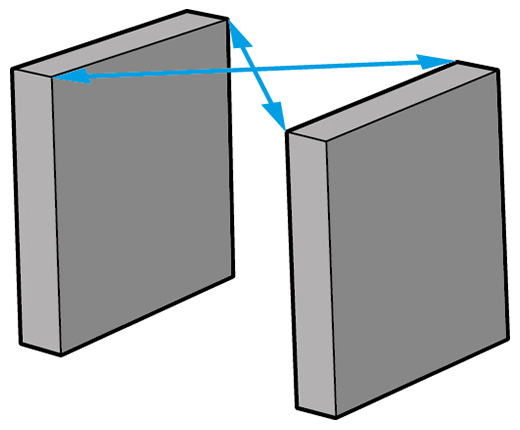 This is how machine components were cross-measured previously.
Why did you choose Easy-Laser?
Emba's development department got to know the product at an earlier meeting at an industrial fair. The way we were received by Easy-Laser, along with the versatility the instruments have to offer, made it an easy decision, I would say.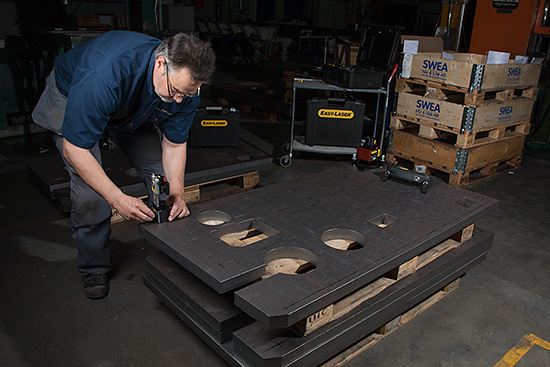 Flatness measurement of machine end after machining.
You mentioned versatility – what measurements do you carry out?
Flatness measurements on large, heavy components, as well as straightness measurements on long beams with linear guides. During installation, we align machine ends with the aid of hole centring/shaft alignment. We also measure straightness and squareness at this time, as well as parallelism between various linear movements. These measurements are performed with an Easy-Laser® E720 supplemented with brackets. To measure parallelism between rolls, we have opted to supplement the system with a roll alignment system. The instruments have also been used to perform measurements in machine tools and in order to check that diabase surface plates are level. So yes, versatility really is the right word.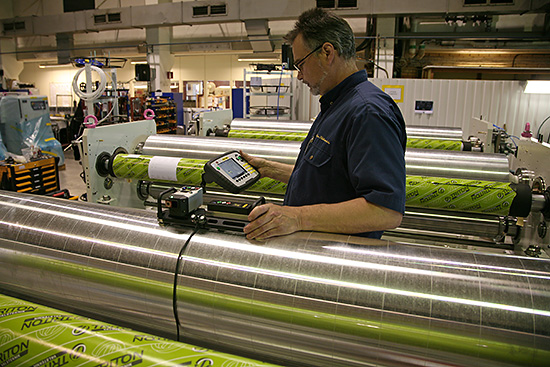 Checking roll parallelism.
How has knowledge of how to use the instruments been secured?
The software is user-friendly, but many of the users have never operated this type of equipment before. As a result, two training sessions have been conducted with Easy-Laser, lasting a total of 4 days. The training has been conducted at Emba's premises, in machines under construction. The training, which intersperses theory with practical exercises, was divided up such that the participants began with basic geometrical measurements and hole centring in the first session. During the second session, the focus was on measurement of roll parallelism, as well as functionality checkings of detectors and levelling of laser transmitters.
How were the measurements performed before and what added value does Easy-Laser provide?
In some of the measurements, we have replaced devices and dial indicators. The measurements are performed more rapidly using the laser instrument, and if you are unsure of measurement data, it is easy to repeat the measurement. Above all, however, the measurements are more reliable. For example, we have linear guides installed on beams that have to move in parallel with other linear guides installed on other beams. When we measured these before using dial indicators, we were unable to capture local deviations in the same way as now.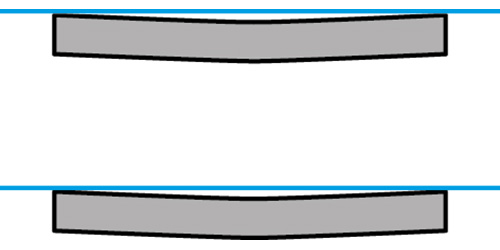 The linear guides can be parallel, but both beams may be crooked at the same place.

Our laser instrument now gives us the opportunity to pinpoint these deviations as well. In some cases, earlier measurement procedures have been replaced so that we now measure the machine from different positions instead, which are more relevant for the machine's conditions. Some measurements have not been conducted previously. The fact that we can now perform these measurements provides us with a basis for discussions with our suppliers and contributes to our work of consistently improving our quality.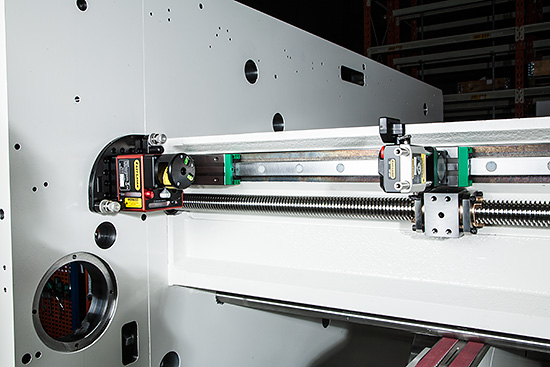 Straightness measurement of linear guide with laser transmitter D22 from system E720.
Emba now measure that the rolls are parallel with each other. What happens if they are not parallel?
Some of the most critical rolls are located in the printers. If the rolls are not correctly aligned, this can result in the print being positioned incorrectly on the package, which is unacceptable. If the feeder table is not aligned with the machine line, this results in a crooked printed image, slanting slots, slanting punching and a folding result that is outside of the stipulated tolerances, all of which are also entirely unacceptable. As Emba's machines are renowned for their good range of formats as well as their high machine speed, the machine alignment from unit level to the overall machine line is an important aspect in achieving a good end result, i.e. a perfect box.
How was roll parallelism checked previously and what is the advantage of the Easy-Laser system?
When building units, we relied on the cross-measurement method as well as levelling with the aid of a precision level. The cross-measurement method is difficult, as access to reference points can be difficult or non-existent. When installing machines, we rely on specially manufactured spacers between the units in order to achieve parallelism as well as precision levels for levelling. Where possible, we can use tape measures to take measurements covering two separate rolls. With the laser instrument, we have the potential to measure all or parts of the machine, in order subsequently to monitor any adjustment of rolls in "live" mode.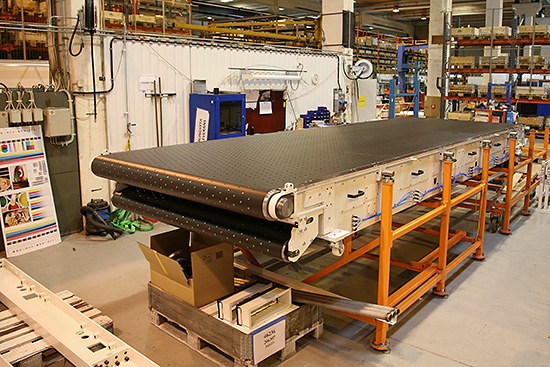 The feeder table is another part of the machine that is measured with Easy-Laser®.
Here the aim is to check e.g. that the rolls are parallel and at right angles to the table.
During shipping, your machines are split into smaller units in containers, and are reassembled on site on the customer's premises. This must place great demands on your technicians?
Absolutely! Prior to handing over to the customer, we perform tests in accordance with a special test protocol. The tests are performed under production-like conditions, for example with measurements being taken regarding register variations in the positioning of printing, slots and punches. The position of printing, slots and punches must be able to be repeated within the tolerances, regardless of machine speed. In future, new measurement methods with the aid of the newly acquired laser instrument will ensure better control of the machine set-up, which ought to generate a faster and safer start-up of production in the EMBA machine.

Thank you Stefan for giving us the opportunity to hear how you use Easy-Laser!

www.emba.com