It was just over three years ago that we took the first steps on the journey towards the 'next generation of products'. The starting shot was a conference at which the development and marketing departments conducted workshops, discussed improvement options and came up with innovation proposals. Many technical and engineering technology elements were determined. Even then, we realised that we wanted to take a significant step forwards, and that this would entail a great deal of work for us.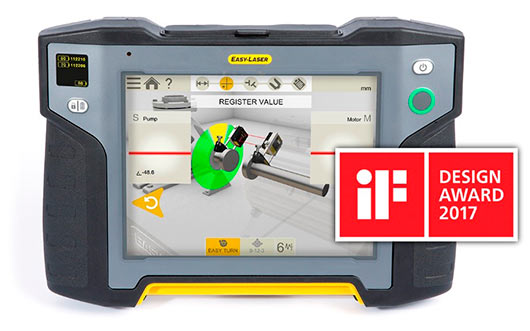 Easy-Laser® XT11. One of the winning products in the category Industry/Skilled trades.
Who are we, actually?
After the conference, it was decided that we needed a common internal objective regarding what Easy-Laser stands for as a brand and a product. This objective should naturally also coincide with what we stand for among our users and in our sector. The next step was therefore to make contact with the industrial design company Shift Design & Strategy. After additional workshops, user studies and in-depth interviews under their leadership, we initially established our core values: User-friendly, Adaptable, Precise and Reliable. Easy-Laser has actually had these core values since we were founded 20 years ago. However, many new employees have joined us in the intervening period, and not all of them embody these values as a matter of course. At the same time, it is sometimes the case that those who have been with us for a long time can block new perspectives, for better or worse. It was therefore extremely beneficial to get an outside perspective.
A fortunate setback
Working on the basis of our core values, Shift developed a Design guide, and based on this guide they developed design proposals for the next generation of products. The interface with the software was also under the microscope, and a new design was developed. We were all extremely satisfied! Then, immediately after our internal launch, one of our competitors released new products encompassing design features that, in our judgement, made it impossible for us to use our own design proposals. "It can't be true!" was our first thought. But, with the benefit of hindsight, it was perhaps a blessing in disguise. As we had not yet started manufacturing any products, the damage was not that great, and we had the opportunity to think again about what we actually wanted to do.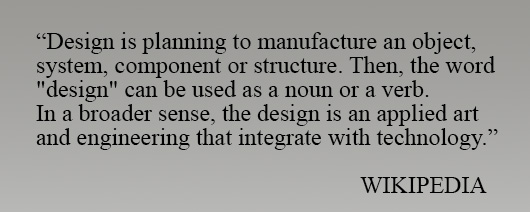 Shift Design & Strategy
Shift Design & Strategy is a Gothenburg-based design agency that works with companies in many different sectors, ranging from B2B and consumer goods to Life science. Patrik Westerlund, who runs the agency alongside Carl Hampf and Per Bergström, explains more about their offer and working method:

"For us at Shift Design & Strategy, design is a matter of both making the right products and making them in the right way. A design strategy helps both the customer and us to achieve a consensus, based on pragmatic input values from both business development and product development. When you have had a common objective all along, this can be clearly seen later in the process and in the final products. The design strategy helps everyone in the company to validate form and expression from a broadly established angle. The design then becomes more than just an expression of someone's subjective thoughts, and the work on the product design is both more accurate and more efficient."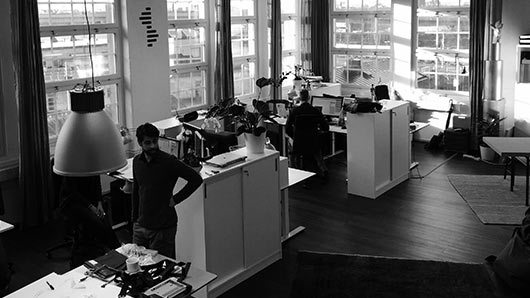 Shift Design & Strategy's office. Patrik Westerlund, who has been involved in the design of the XT11, says: "For us, design is a matter of both making the right products and making them in the right way."
Test and redo, then test again
After deciding on a new direction, we produced a number of sketches. Ideas were bounced back and forth repeatedly. Following the classic industrial design approach, a number of physical models (mock-ups) were also produced along the way. We tested various handle shapes, various solutions for battery compartment covers, moved electronics and circuit boards this way and that. We have produced, discarded and then remade countless variants in our own 3D printer. The 3D printer has probably reduced the development time by several months. The development of the XT11 has also involved suppliers of touch screens and injection moulding tools, to name just a couple of examples. It is fascinating how much knowledge and pure craftsmanship lies behind all the plastic products we see around us every day. Even if they are designed in a modern CAD tool on a computer, it is not until the injection moulding tool that the plastic materials reveal their true colours!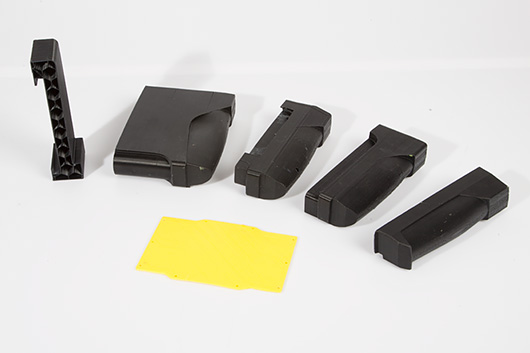 Models were produced using our 3D printer in order to verify design changes, for example regarding handles, battery covers and circuit boards.

Working with an external design company not only raises the level of the actual look. It also means that you can incorporate their experience from a great many other development projects in the discussions regarding how items can be produced. In other words, it has not simply been a matter of styling. Göran Wennberg at Easy-Laser is responsible for the design work on the XT11:

"I have had countless Skype meetings with Patrik at Shift, during which we have discussed solutions and shared screens, for example when a battery compartment cover has had to be moved from its intended location, or when a bolted joint has ended up in a location that is not ideal from a design perspective. In addition to the regular meetings, this has proven to be a very effective working method. I would also like to thank John Andersson at PDS who has been an invaluable sounding board during the development work."

It is also worth mentioning that Shift actually won another iF Design Award this year, which we would like to congratulate them on. Well done!
Unique concept
The software has also been developed in parallel with the physical design of the product. This has represented a major challenge, as nobody in the sector has made anything resembling our concept before, i.e. where the same app can be run both on an in-house platform and on the market's existing iOS and Android displays. This solution provides the user with unsurpassed freedom of choice. At the same time, it has caused our software developers a great many headaches. But for smart developers who like challenges, this is no obstacle, as I understand it!

In mid-August 2016, it was time for the world premiere of what we have dubbed Generation XT! A long journey had arrived at its first station. The reception among dealers and users was extremely positive. There were naturally many questions as well, but as we were presenting something completely new in terms of the way the products are 'packaged', we were prepared for this. Purely in terms of the design of the products, we could see from the reactions at this early stage that we had taken a major step in the right direction.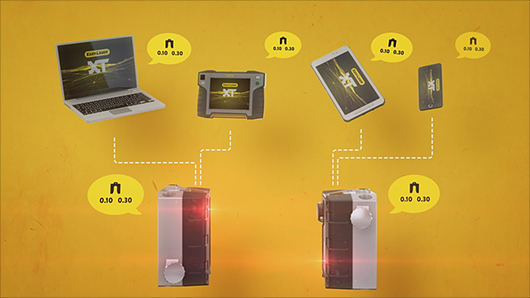 Easy-Laser® XT11 is part of the new Generation XT, our app-based measurement system.
iF Design Award
What is it and what does winning the award actually mean? The iF Design Awards are without doubt one of the world's most prestigious design competitions, with entries assessed by professional designers from around the world. This year, 58 designers assessed more than 5,500 submitted entries in seven different categories. They look at features such as pure aesthetics, the feeling that the product conveys, ergonomics, how the product achieves its task, the level of innovation, etc. As a result, the award means that we have been given a seal of quality for the work that we and Shift have carried out. And not just in terms of 'looks'. Anders Edenhammar, MD at Easy-Laser, develops the argument:

"When we decided to invest a little extra three years ago, we didn't know for certain where we would end up, although we had a strong vision. I am very impressed at what everyone here has achieved. I also believe that all those who have been involved in developing both the software and the hardware are proud of the end result. And with good reason. This is world class!"
What happens next?
Easy-Laser® XT11, along with other winning products, will be exhibited in Munich at the iF Design Awards, which is naturally a great honour. However, we are not expecting our customers to travel there to look. For them, the most important thing is that we can live up to our promises regarding user-friendly and reliable measurement systems. And to be honest, this is the most important thing for us too. Because the development department at Easy-Laser AB is continuing its work on more products in what we are no longer calling, somewhat vaguely, 'the next generation of products', but rather Generation XT. But let us celebrate for a moment first! The journey is continuing...

Rustan Karlsson, Head of Marketing


See the film from the iF Design Jury session: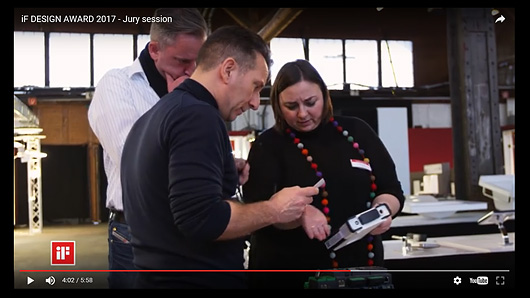 Learn more about the iF Design Awards, Industry & Skilled Trades Category