Hi Elisabeth! Can you describe your role in one sentence?
I can try! I work creating systems to ensure that things are done correctly without any effort – and from the start.
You have a great CV. What did you do before starting at Easy-Laser?
A lot of things. I have worked as a program leader, project manager, measurement manager and optical designer. Most recently, I have come from RISE (Research Institutes of Sweden) where I worked as a certification engineer for a few years. But I laid the foundation at Saab, where I worked for 21 years.
After studying civil engineering at Chalmers, I started at Saab Dynamics prototype and IR office in Gothenburg in 1988. There, we designed and built turnkey equipment. We designed everything from circuit boards, optics, mechanics, image processing to programming. I started project managing and evaluating year-long major field measurements with a lot of people and equipment. After that I became first an optics designer and then a project manager and later a program leader with full responsibility for both the development and implementation of project and product ideas.
At the same time, I co-chaired the Saab group's committee for optic skills for ten years, and between 2001 and 2010 I was also an organising representative, project manager etc. for the Swedish Technology championships (Teknik-SM), of which Saab was one of the main sponsors. There, I got to meet and get to know a lot of clever and creative students studying at the technical colleges. It's fun with people and ideas! During the last ten years at Saab Dynamics, I worked with systematic research and knowledge building and introduced some interesting products. I also hold a patent on Saab's behalf.
What made you change jobs?
I hadn't actually thought about changing jobs, but the people were so nice and so professional that I fell head over heels. Added to which, there was such a great atmosphere at Easy-Laser and they make really interesting measurement products.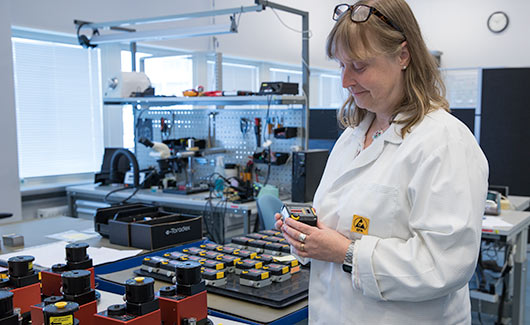 How was it starting at Easy-Laser?
Exceptionally fun! I have never received such a warm welcome anywhere…and even though there is a lot to do here, you feel energised working at Easy-Laser. So at the end of the day you can go home with a smile on your face!
What are the positives of working here?
It is exciting and fun to work here, and each person's contribution counts. You can make a difference and it is noticeable in the staff's commitment, everybody helps at all levels.
What is the company's view on quality?
It is a very quality-conscious company, which wants to deliver as precise and easy-to-use measurement instruments as possible to its customers. The staff are very quality-focused.
And what is the goal of your work?
To make it easy to do things right!
Thank you Elisabeth, and good luck with your important job. We know that our customers and partners will appreciate it!