Without a doubt the most important aspect for rotating machinery is the installation or re-installation of the machine. There are other factors, such as operational procedure and design faults – even incorrect lubrication – however, the main factor is the installation. This is the critical element that dictates the life expectancy of the machine. The famous study of Nowlan and Heap tells us that only 11% of rotating machines run to their full life expectancy. Even if you disputed this study, consider the billion-dollar Industrial Supply Industry that supplies us with chains, sprockets, belts, sheaves, pumps, motors, gearboxes and so on. If we say that the study is correct then we have to admit that we do not do a good job as installers and maintainers of rotating machines.
Do we ask ourselves the right questions?
We have to ask ourselves some tough questions. Do we have the qualified people to do the work? Have they been trained? To what level or standard? Do we have the right alignment equipment to do the work (dial set or laser)? It's an exercise much the same as doing breakdown analysis and you have the questions but you must get or give honest answers.
When you ask to what level or standard are your staff trained to, is the answer "On the job training only"? Or say you use contractors, then is the answer "We haven't a clue"? We just assume they know what they are doing. You see, up until now there has not been a shaft alignment standard for any of us to work or, to compare to.
Recently a new standard was published in the U.S. by the Acoustical Society of America (ASA) and the American National Standards Institute (ANSI) called:
Shaft Alignment Methodology, Part 1: General Principles, Methods, Practices, and Tolerances. ANSI/ASA S2.75-2017/Part 1.
This new standard is a great thing for our industry and will help us with all of our installation work and more. This is the first standard of its kind in the world. I also fully expect it to be adopted by other countries and it would not surprise me if the ISO (International Standards Organization) also adopted it.
What are standards?
Standards are published documents that establish specifications and procedures designed to ensure the reliability of the materials, products, methods, and/or services people use every day. Just think about if we were without the Health and Safety standards we use every day in the industries we all work in.
Standards are the fundamental building blocks for development by establishing consistent procedures that can be universally understood and adopted. They help govern the way we live, work, communicate, in short just about everything we do.
Who should be using this standard?
If we look at the standard on this, it says:
The intended users are craftspersons, front line supervisors, maintenance managers, procedure writers, construction managers, and engineers who design, install, or maintain rotating machinery.
I think this standard will greatly help us in improving our industry because it will lead to other new standards and certification programs. For example, if you were to have some vibration analysis done on a machine unit using an outside contractor, you can select the contractor based on their certification level. There has been a vibration standard for many years and the Vibration Institute (VI) in the U.S. as well as the Canadian Machinery Vibration Association (CMVA) have a certification program. So you can be a Level 1, 2, 3, or 4 vibration analyst. When you select someone who is certified it should give you some confidence, which is better than a guess, as they know what they are doing. Sort of like sitting in your doctor's office and reading their certificate which is usually on the wall for all to see. Obviously we will be able to do the same for our installers as well as the staff that you employ to do the work.
Practical takeaways
Standards are not How-To books. They are written with specific recommendations and must do's. They also give guidance. For instance, this standard has a flow chart of the machinery installation process – which is a recommended guideline (see below).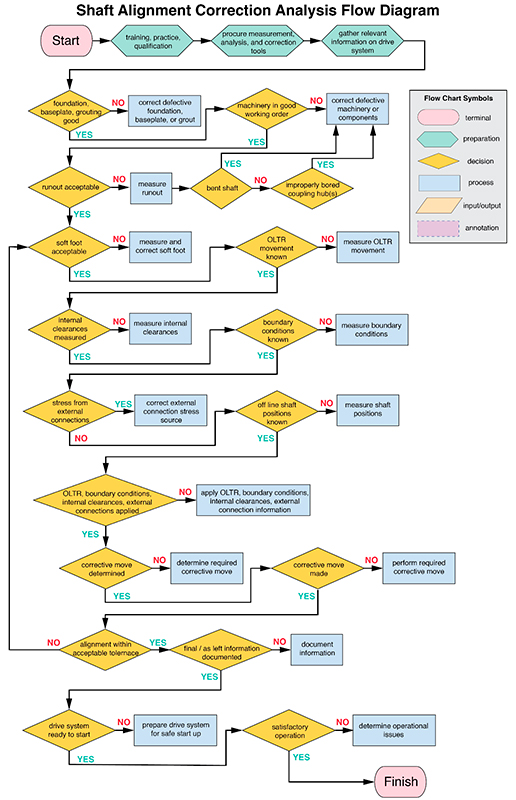 The standard is written following the core technical components of Measure, Analyze, Correct and Documentation. It tells you what you need to measure. Below is an example from the introduction portion of the standard:
The measurements described here are mechanical in nature and describe the geometric features that define and affect shaft alignment. There are many types of rotating machine systems and all parameters cannot be fully identified. Below is a list of what should be measured on typical systems, where applicable, to understand the existing conditions and how to proceed.
Base flatness and level
Shaft runout
Coupling runout
Pipe and conduit strain
Soft foot
Offline To Running (OLTR) machinery movement
Shaft centerline to shaft centerline
These parameters and applicable tolerances are defined in this section along with acceptable measurement methods.
It will give you not only a recommendation on how level your base should be, but also how flat the foot pad should be including a tolerance for coplanarity of the whole base. The shaft alignment tolerances have been expanded giving a minimum, standard and precision tolerance level. They now have guidance on spacer coupling that have two flex planes as well as single planes style i.e. short/close couplings. It is all presented in simple charts and diagrams like the one below.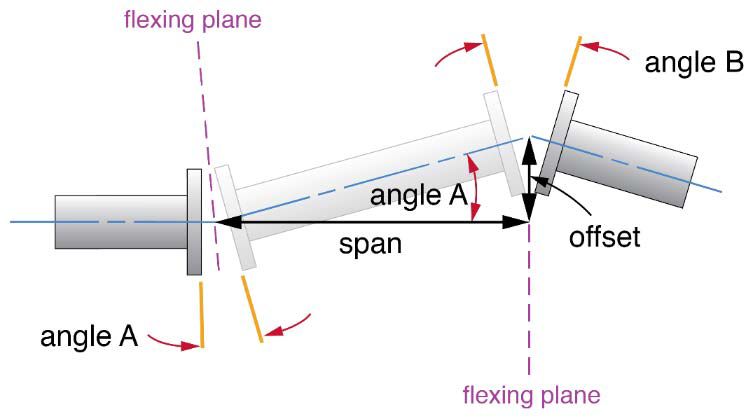 There is even guidance on what should be documented. This could be used to give to a contractor showing what you would like in a report, or have it as a template for your own staff to use. There are annexes that will give the formula for different dial indicator setups while showing graphing or modelling techniques for dial indicator work. So it's not just for companies that have laser systems – it's inclusive for all methods used. The standard gives the formula for thermal growth, which is important for (OLTR) offline to running analysis. One of the things that I like is a simple check list. That doesn't sound like much but if you use it, it keeps you on track and honest (no cutting corners), so its powerful.
Suffice it to say, this new shaft alignment standard offers a lot of important information that will help you set the standards for your company and is well worth the small fee.
A lot of machinery knowledge
The Vibration Institute has worked with ASA for over 40 years to develop standards on machine vibration measurement, monitoring, and analysis and certification of vibration analysts. It was the Vibration Institute that initiated this new standard. They put together a group of knowledgeable people – experts if you will – working together for a common goal, to find consensus of best practices and methods. This produced an approved and published national standard in less than 4 years. This was not an easy thing to do.
They invited a total of 43 people that had shown they had experience in this work. Many of whom were competitors in the work they do or the services and products they offer. You can also say that many had strong opinions. So, when I say this was not easy, I mean it.
I'm proud of the fact that I was the only Canadian to be invited. It was an honor to work with such a prestigious peer group. Also, it is nice to know that this work will benefit many.
John Lambert
Benchmark PDM
To purchase the standard, please contact Benchmark here.
You can also find this article in MRO Magazine's April Digital Edition.