The most important part of Easy-Laser are the people working here. What they do govern how our products perform once in the hands of our customers. And how they act shape how people view us as a company. In early 2012, we decided to invite a third party to help us derive the core of our company culture. After running a series of company-wide interviews, they presented the following words: user friendly, adaptable, precise and reliable. Our core values!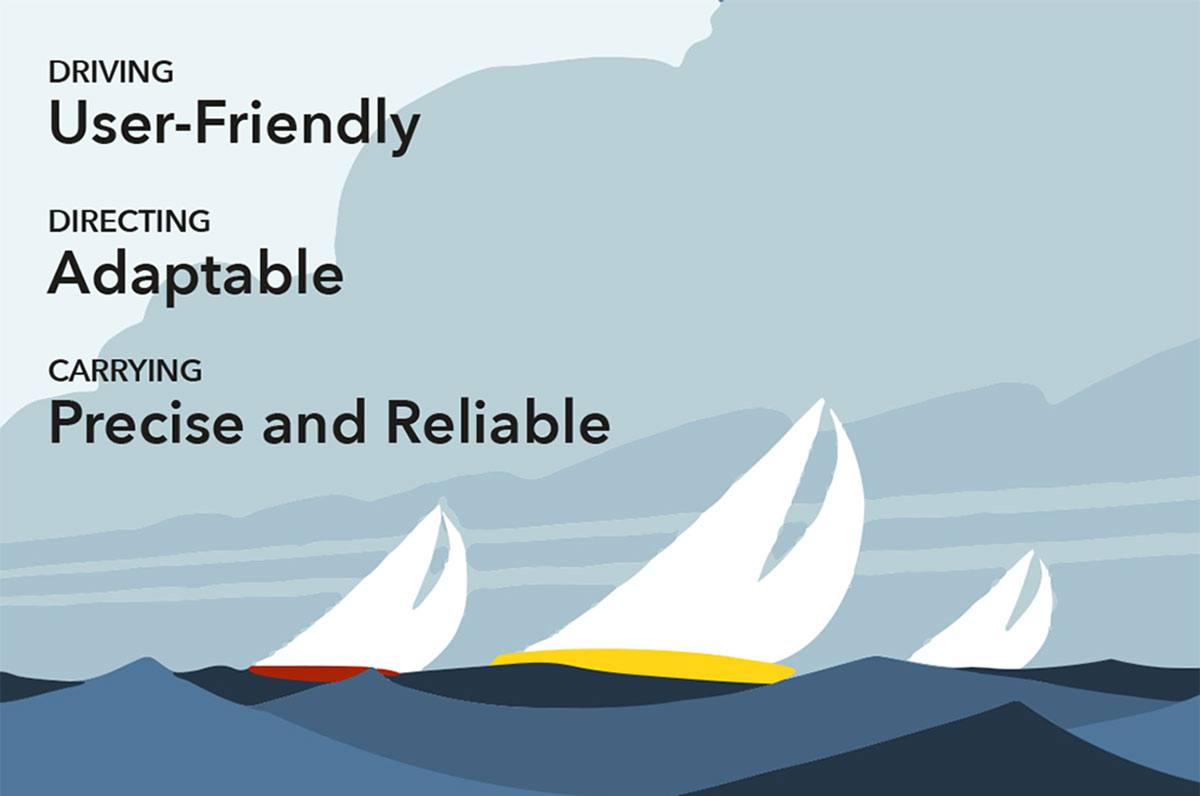 To visualize the company and its values we have chosen to use a sailboat as an analogy. Its hull is carrying the boat, the main sail is directing it, and the spinnaker is driving the boat forward. This guides us in our day-to-day business – whether dealing with customers, products, or our colleagues.
User-Friendly
It is no secret that Easy-Laser set out to be the most user-friendly alignment system out there, hence the name Easy-Laser. In the early nineties we saw a huge gap in the market in that the alignment systems available at the time were difficult and complex in their operation. This often created insecurity in the alignment process and delayed, or straight out caused mistakes in aligning the machinery.
The pioneers that started Easy-Laser set out to change that! This is still very much true today and is used as our guiding star in developing new solutions, as well as interacting with our customers and partners. Easy-Laser alignment systems are hands down the most user-friendly alignment tools out there, and the organisation is "Easy" to deal with. Try us out, you might be surprised how easy it can be to use our tools and to interact with us and our partners worldwide.
Adaptable
We have, without a doubt, the most comprehensive line of laser alignment equipment out there. This is another one of those musts, in our view. The system needs to adapt to your specific application and needs. There are no magic "one size fits all" alignment solutions out there. If you need a special bracket to get past a physical restriction or need adaptable algorithms in the software to filter out ambient vibration or sun light, we got them all! Our systems adapt to your needs and specific application. Since the very early days of Easy-Laser in 1993, we have delivered adaptable alignment.
But this is not only true for hard- and software, but also for the whole organisation. We need to be adaptable, whether that means short lead times on new deliveries, or quick turn-around on a repair, we can do it!
Precise and Reliable
Would you board a sailboat that is not precise and reliable? If you answered yes to that question you are more adventurous than me. I like my vessels, and tools, to be precise and reliable. Designed to solve the task at hand in a precise, and dependable way, and preferably not break down in the process.
At Easy-Laser we pride ourselves in our precise and reliable alignment tools. Every tool we produce is rigorously tested and designed to persist in the tough, industrial environment that you work in.
Of course, this is again also applicable to us working at, and with, Easy-Laser. To be reliable means to have integrity, to do what we say we will do. To deliver on the target and to do it in a precise way.
Straightforward by all measures
All the above can be summarized in this one simple phrase, straightforward by all measures. You can expect us to deliver straightforward solutions to your problems. And to do it in such a manner that you can reap the full benefits of a user friendly, adaptable, precise and reliable alignment solution.
Our core values tell you who we are, not who we want to become!
Mikael Terner
COO