Some call it culture, others call it climate. It's that hard-to-describe thing that every workplace has. Let's just call it the atmosphere of Easy-Laser. And what is it? It's not just the sum of the sixty something people working here. Things happen when people work closely together, and it's often referred to as chemistry. If that chemistry is right, then the result might be a vibrant atmosphere. According to the people of Easy-Laser, this is what has happened.
– Easy-Laser is a company that gives people the opportunity to grow. I can just look at myself. I have had a personal and professional development that I never expected. It's mainly thanks to my colleagues. We always help each other out by sharing knowledge, says Service Manager Alex Nicolescu who has been a part of Easy-Laser since 2007.
What Alex has to say is not isolated. Sofia Andén, Area Sales Manager, has similar things to say about the colleagues, but from a different angle:
– Being a woman in male surroundings can be challenging. But for me it's also a driving force. Since I started working here in 2010, a lot has happened when it comes to gender parity at Easy-Laser, even by Swedish measures. The number of women has increased over the years, and there are now quite a few of us. That says a lot about Easy-Laser as a company.
The generation that conquered the world
Success breeds success. Easy-Laser has been doing well for many years now, but there is a very noticeable turn upwards after the serial release of the XT product line. From the first launch in 2016, Generation XT has become a game changer in the alignment industry. This too contributes to the atmosphere at the company. The more you succeed, the more you want that success to continue. There is a before and after XT, the generation that has conquered the world. Even though an expansive company of course needs to recruit new people, most of the people at Easy-Laser have been around long enough to remember the journey. Anton Josefsson is Software Developer:
– Generation XT is centred around an app. As a software developer, there's great variation in what I do. But most of the time I focus on creating new functions for the app. The best part of my daily work is being able to work with a big, living product that has been around for several years and is a constant work in progress, says Anton.
Team Easy-Laser
Those who have joined later can still feel the massive effects of Easy-Laser's rise to the top. It's in many ways a mindblowing development. How can it be that a small, Swedish company has succeeded in becoming the market leader? It's indeed an accomplishment to be proud of, which becomes clear when talking to some of the more experienced Easy-Laser employees.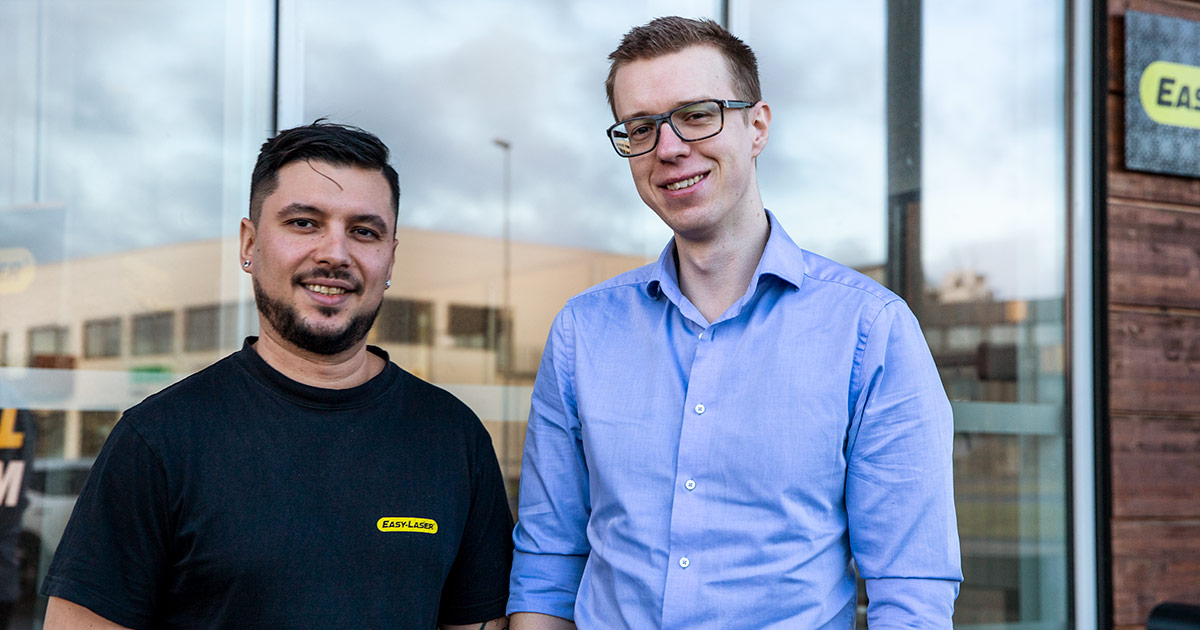 Alex and Anton
– The working climate is great, Anton Josefsson continues. There is a lot of faith in the competence of us employees, and it contributes to a strong team spirit.
Anton gets concurring nods from Sofia and Alex:
– We really are a team and great at supporting each other as colleagues, says Sofia.
– Before I became service manager, I was team leader. In my heart, I still am, Alex Nicolescu concludes.
Working at Easy-Laser, then, appears to be rewarding. You have great colleagues, get to be a team player and can enjoy personal and professional growth. As a bonus, you can tell your friends that you're working for the market leader.