WARRANTY
We know that Easy-Laser® meets the highest of quality requirements.
That's one of the reasons why we offer a 3 year product warranty.

Long warranty periods
Our measurement systems have a product warranty of at least 3 years. Why do we offer this? So you do not have to worry about any unexpected extra expenses. And because we know that Easy-Laser® meets the highest of quality requirements. All precision instruments require calibration at certain intervals.

NOTE! Product registration is no longer required to get the 3 year warranty (this was previously the case).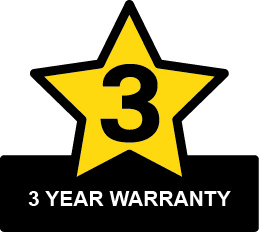 ISO9001 and certified manufacture
We are an ISO9001 approved company. Our quality system is also approved by Nemko (Notification Number Nemko 05ATEX4428O) as follows:
"Nemko AS, notified body number 0470 for Annex VII in accordance with Article 9 of Council Directive 94/9/EC of March 1994 notifies to the applicant that the actual manufacturer has a product quality system which complies with Annex VII of the Directive."
Warranty commitment
Easy-Laser AB develops and manufactures Easy-Laser®. The products are manufactured under Easy-Laser's stringent quality controls. If the product stops working or is outside the specification within three (3) years of purchase, the warranty applies with paid repair or replacement of defective products.
(1) With new or used replacement parts.
(2) Replacement of product by new or similar, in a condition the same or better than the original product. The customer must be able to prove the purchase date with the purchase receipt. A copy of the original must be sent with the product in the event of repair.
The warranty applies to normal use according to the manual, which accompanies the product. The warranty covers Easy-Laser® product errors and faults that are due to material and/or fabrication faults. This warranty only applies to the country in which the product was sold.

The warranty does not apply:
If the product is handled carelessly or incorrectly. If the product is subjected to unusually high temperatures, moisture, shock or high voltages. If the product is modified, repaired or dismantled by non-approved repairers.
Compensation for any secondary damage caused by an Easy-Laser® product fault does not apply. Easy-Laser AB is not responsible for any transport costs for equipment sent to Easy-Laser AB for repair.
NB! Before the product is sent for repair, it is the responsibility of the customer to make a backup of all saved data. Resetting saved measurement data is not covered by the warranty. Easy-Laser AB takes no responsibility for saved data that is damaged or lost during transportation or repair.
LITHIUM ION BATTERY LIMITED WARRANTY
Lithium ion batteries inevitably lose power during their lifetimes, depending on usage temperatures and the number of charging cycles. Therefore, the internal rechargeable batteries used in the E-series are not included in our general 3-year warranty. There is a 1 year warranty for the battery capacity not to fall below 70 % (a normal change means that the battery must have more than 70 % capacity after more than 300 charging cycles). A 2 year warranty applies if the battery becomes unusable because of a manufacturing fault or factors that Easy-Laser AB could be expected to have control of, or if the battery displays abnormal loss of capacity in relation to use.