At the Hannover Messe, we present a new all-in-one solution for the machinery installation process, the Easy-Laser® E720.
The Hannover Messe takes place between 25 and 29 April and is the world's largest industrial fair, with thousands of exhibitors, and more than 200,000 visitors from all around the world. Easy-Laser has been exhibiting on the fair for many years now. This year USA is Partner Country, which means a larger number of American exhibitors, and probably also more visitors from the USA. It also means that president Barack Obama is expected to join the opening ceremony. For us at Easy-Laser this is significant, as we presented our partnership with the leading provider of predictive and proactive maintenance solutions in the USA, Ludeca, Inc., in April of this year.
New measurement system
As mentioned we present our new alignment system E720. This is a shaft alignment system for rotating machinery with our laser transmitter Easy-Laser® D22 in addition. The measuring units has point laser and PSD technology, which means they can also be used for geometrical measurement. This provides unsurpassed versatility for maintenance technicians and millwrights, and a lower investment for the company thanks to the fact that no separate detector is needed. Therefore all important steps of machine installation can be performed with one and the same system. For example flatness measurement and adjustment to level of foundations. A foundation has to be flat within 0.1 mm/1000 mm to be able to do its job properly. This can be ensured with laser transmitter D22. Also the machine setup will be easier and made quicker if the foundation is correctly aligned.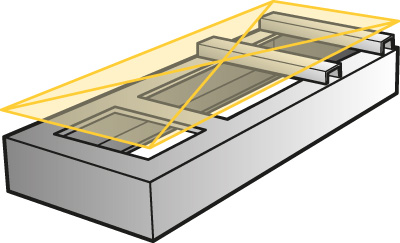 A machine foundation has to be flat within 0.1 mm/1000mm.

System Easy-Laser® E720 has of course also all the important programs and functions for shaft alignment of all kind of machinery: horizontal, vertically/offset mounted, cardan coupled and machine trains. All of our measurement programs for geometrical applications are also included as standard, which means the expansion possibilities of the system are virtually unlimited.

Learn more about Easy-Laser® E720 on the product page