MEASUREMENT AND ALIGNMENT
MADE EASY
Easy-Laser® is the world's leading manufacturer and supplier of laser based measurement and alignment systems. We develop straightforward products made to quickly and accurately perform measurements and align machines for assignments in all types of industry. Here is why you should align with us.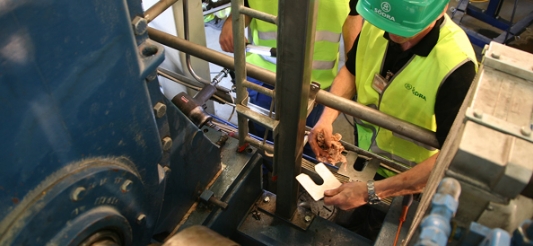 Blog
Don't lose on the swings to make up on the roundabouts
Read more
We are happy to announce that Terrence O'Hanlon will come to Underhåll 2020, Europe's No. 1 Maintenance Trade Fair and Conference. It will take place March 10–13. In addition to giving an Easy-Laser-hosted keynote session at the exhibition ...
Read more
Advantages with lasers
SAVE TIME AND MONEY
An investment in a laser based alignment system such as Easy-Laser® rapidly pays for itself through lower costs for replacement parts, less downtime and smaller electricity bills.
MAKE AN ENVIRONMENTAL CONTRIBUTION
Correctly aligning a piece of machinery does not only make it consume less energy. It also extends the service life of its components, decreasing the need for spare parts and thus saving resources.
LESS DOWNTIME = MORE ASSURED PRODUCTION
Alignment with Easy-Laser® increases the availability of the whole production process. If you run your machines around the clock you can gain as much as an entire day's production per year.
Still not convinced? Read more about advantages with lasers here.